Now Offering Permanent Jewelry!
Permanent Jewelry (aka Forever Bracelets & Anklets) are dainty custom lengths of 14k yellow gold fill, rose gold fill or sterling silver chain that are measured out for your specific wrist or ankle and then micro welded together creating a totally seamless piece. 
Available at our store, Catalyst Mercantile at 117 N Main St, Mount Holly NC 28120. No appointment necessary!
More Info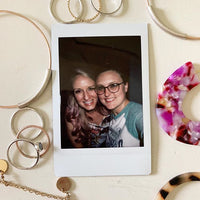 Inspired by Freedom
Neon Love Story was launched with the hopes of making someone's life better. We have been overwhelmed with the outpouring of support and love and now, because of that, we can finally give back. 10% of every purchase is donated to A21 to aid in the fight against human trafficking. This incredible organization is dedicated to educating individuals on  recognizing the signs of trafficking and how to avoid being a victim, as well as rescuing and rehabbing victims and prosecuting their traffickers. They're giving people second chances at this wonderful life and we are just happy to be a part of it in some way.